News and Links: SOLEILMOON RECORDINGS
Richard Fontenoy interviewed Bill Breeze about Coil's "Time Machines". Go read it at The Quietus.

Vicki Bennett of People Like Us was interviewed on BBC Radio 4 on Saturday. It's all about editing!

Merzbow plays live in Tokyo on the 13th at Super Deluxe. On the 17th he'll share the bill with Keiji Haino at "Black Terror" at Contact Tokyo. He'll be back a Super Deluxe again on December 12th. Details on his site.

Pro tip for U.S. customers: If slower delivery (up to 10 days) is OK for you, select "USPS Media Mail" during checkout and you could save money on shipping. The only catch is that your shopping cart can only contain CDs, LPs or DVDs. Some books are allowed, but only if they're not picture books. If you're buying patches, t-shirts, pins, picture books (Timeless Editions books, for example), or other non-music items, you won't be offered Media Mail shipping during checkout, even if it's just one patch in an order of 10 LPs. What to do? The solution is to separate your purchases. Start by putting everything you want – no matter what it is – into your shopping cart. Make a note of the shipping cost, and then remove the non-music items and recalculate the shipping cost. If the Media Mail option is available you can compare the cost vs. shipping everything together. But you'll still want to know the cost of shipping your non-music items, so you'll have to empty the shopping cart and put those other items into a cart and look at the shipping cost. It's extra work, but sometimes two carts (and two separate shipping charges) is better than one.

This update is sent out every two weeks, but some limited edition items come in and sell out before they can be listed here. "Like" Soleilmoon on Facebook, then check off the "Follow" button so you don't miss any Soleilmoon notifications. And don't worry, there aren't too many message, usually no more than two or three a week.
New Releases at Soleilmoon
COIL
Live in Moscow
$40.90 – 2xLP
---
Coil's live performance in Moscow on September 15, 2001. Includes an untitled improvisational track recorded before the soundcheck. Available on CD and double LP, each in an edition of 400 copies. [continue…]
COH
CoH Plays Everall
$43.10 – LP Picture Disc + CD
---
With his second release for Swiss label Hallow Ground, Ivan Pavlov pays tribute to the late Sentrax founder and prolific musician John Everall, who passed away in September 2014. Sourced from analogue material provided by Everall, who was best known for his output under the Tactile moniker, for a collaboration that never came to fruition, the six tracks are an exercise in minimalism and subtlety singular even in Pavlov's impressive back catalogue. On CoH Plays Everall, Pavlov focuses on swirling arpeggios whose colourfulness is mirrored in Ruth Stofer's artwork for this limited picture disk release. [continue…]
LEGENDARY PINK DOTS
From Here You'll Watch The World Go By
$36.20 – 2xLP
---
Psychedelic, even "progressive" at times, and always sublime, "From Here You'll Watch The World Go By" has become a beloved fan favorite. It was the band's first release for Soleilmoon, back in 1995, and marked the beginning of a long and friendly working relationship, one that continues even to today. Rustblade will release a remastered double LP that includes the tracks from the "Remember Me This Way" CDEP. Black vinyl, limited edition of 499 copies. [continue…]
COSEY FANNI TUTTI
Time To Tell
$35.60 – 2xLP
---
PRE-ORDER ITEM, EXPECTED TO ARRIVE NOVEMBER 27, 2017. This is the long-awaited deluxe special edition reissue of Cosey Fanni Tutti's Time To Tell. Originally recorded and released on cassette in 1982, it sees a timely release after the success of Cosey's recent autobiography Art Sex Music. Available for the first time on vinyl, Time To Tell has been remastered and edited from the original audio tapes. It's presented on super clear vinyl, in a gatefold sleeve with a foil block title, and comes with by a 16-page full-color 12-inch booklet. [continue…]
MERZBOW
Pornoise
$57.80 – 6xCD
---
PRE-ORDER ITEM, EXPECTED TO ARRIVE NOVEMBER 6, 2017. This is the first time "Pornoise" has been issued on CD. It was originally released on cassette tape format in 1987 by ZSF Produkt in Japan. It includes all five remastered original tapes plus "Pornoise Extra". Audio remastering and artwork by Masami Akita. Limited edition of 200 copies in a fold-out cover. [continue…]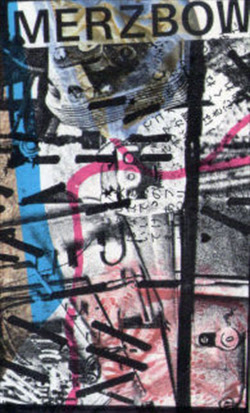 MERZBOW
Musick From Simulation World
$19.40 – CD
---
PRE-ORDER ITEM, EXPECTED TO ARRIVE NOVEMBER 6, 2017. "Musick From Simulation World" was originally released on cassette tape by Produktion in 1983. It was later re-issued by Lowest Music & Arts in 1983. Limited edition of 200 copies. [continue…]
MERZBOW
Le Cuisinier
$19.40 – CD
---
PRE-ORDER ITEM, EXPECTED TO ARRIVE NOVEMBER 6, 2017. "Le Cuisinier" was originally released on cassette tape by Stratosphere Music (SMC-010) in 1983. It was later re-released in few copies by Lowest Music & Arts / ZSF Produkt. Limited edition of 200 copies. [continue…]
COIL
A Cold Cell In Bangkok
$19.80 – 12 inch picture disc
---
PRE-ORDER ITEM, EXPECTED TO ARRIVE MID-NOVEMBER BUT DELAYS ARE POSSIBLE. "I fell in love with Coil's music as a teenager in the 1980s. In 2008, Domino Records invited Optimo to put together a compilation of music for them to release. I wanted to include Coil's 'A Cold Cell' and after approaching Peter Christopherson for permission to release it he suggested doing an exclusive remix for the compilation. How could I say no? The remix was titled 'A Cold Cell In Bangkok'." –JD Twitch, May 2017. Single sided 12″ picture disc; silk-screened image designed by Lindsay Todd. [continue…]
…
[Mensaje recortado]  Ver todo el mensaje